Click here to Search /
View Cart or
Click on a Category below :

Power Banks
# EPK-16000 UNIVERSAL CHARGER & JUMP STARTER KIT !
16,000mAh Li-PO battery, loads of accessories
Battery size 7" x 4" x 2". Weighs only 1 lb !
It's a PowerBank / Power Supply / Jump Starter / Emergency Light
and much more ! Full package $ 99.95 BUY
Arrives PRE-CHARGED & READY TO USE !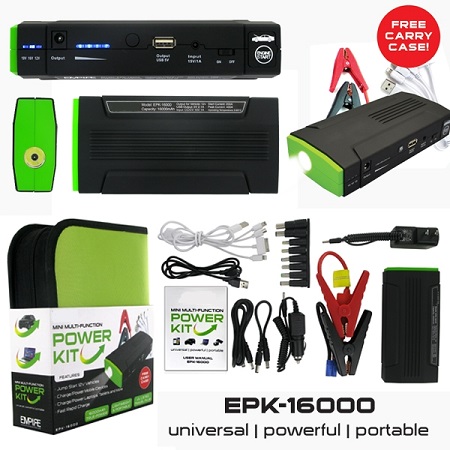 Click on picture for more details !
---


Solar Rechargeable Power Bank, with 10,000mAh Li-ION Polymer battery inside.
Charges virtually any portable device or battery via dual 5V USB2.0 outputs
(1A and 2A charge rates). Can charge 2 devices at the same time!
N
EW FEATURE: now has extra fold-out solar panel, to double the solar array.

Power Bank re-charges via Solar Panel (400mA/hr max), and also via micro USB jack.
To re-charge, either connect to a USB output (1A - 2A preferred output rate)
for quick charge, OR place on window sill in direct sunlight (slow charge),
Has easy-to-read LED power status indicators. Size approx 6" x 4" x 0.8"
Weighs less than 1 lb. Includes USB-to-micro USB recharging cable.
Part # PB-10000
List $ 70.00 YOUR PRICE $ 49.95 BUY
---
Portable, rechargeable, essential for phone power when you need it.
These will provide immediate charging & power to your phone, tablet,
or any portable device that can charge from a 5.0VDC USB type output.
These Power Banks can be recharged from conventional USB outputs,
such as on a computer, or a portable wall charger, or 12VDC charger.
PowerBank 2600
Price $ 14.95 ea. BUY
Arrives PRE-CHARGED & READY TO USE !


Size: 4" long, 1" square. Outputs 5VDC @ up to 1A charge rate.
Provides quick, easy charging of cellphones and other portable digital devices.
Has USB 2.0 output on top - charges your device via USB2.0 port.
The PowerBank 2600 re-charges thru the top, via a micro USB
input with the supplied charging cable.
Comes in retail gift box. Includes POWERbank, charging cord, lanyard & keyring.

Click on photo at left for more info, and to visit store.batteriesamerica.com