Click here to Search /
View Cart or
Click on a Category below :

Power Banks
Portable, rechargeable, essential for phone power when you need it.
These will provide immediate charging & power to your phone.
They can be recharged from conventional USB outputs.
# EPK-16000 UNIVERSAL CHARGER & JUMP STARTER KIT !
16,000mAh Li-PO battery, loads of accessories
Battery size 7" x 4" x 2". Weighs only 1 lb !
It's a PowerBank / Power Supply / Jump Starter / Emergency Light
and much more ! Full package $ 99.95 BUY
Arrives PRE-CHARGED & READY TO USE !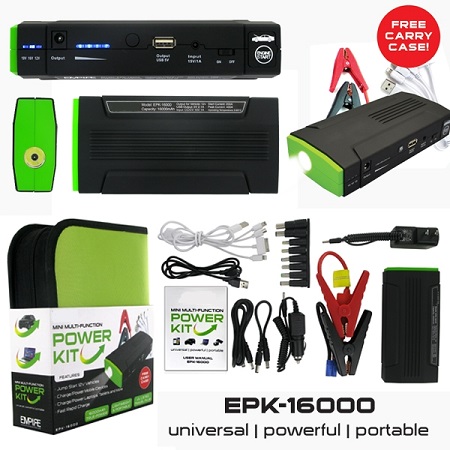 Click on picture for more details !
| | | |
| --- | --- | --- |
| | | |
| | | |
| | | |
| | | |
NEW - PB11000
$ 49.95 / pkg BUY

The PowerBurst PB11000 : Dual USB output 11,000mAh rechargeable
Lithium Power Bank-Charger pkg for Phones, Tablets, etc.
Get instant power for your smartphones and tablets at home, work,
school or while on the go. Talk, text, browse or listen on your mobile
devices whenever you want, for as long as you want, and still have
power when you need it ! 4A output enables you to even charge
up to 2 tablets at the same time !

Features:
Arrives to you PRE-CHARGED & READY TO USE
PowerBank is an 11,000mAh high-quality Lithium Polymer
rechargeable battery. Unit size approx 5" x 3" x 0.75".
Provides up to 5 full recharges to Smartphones on a single charge
PowerBank has Dual USB2.0 outputs for simultaneous charging of two devices.
PowerBank also has a micro USB input port for re-charging.
PowerBank unit has 4A max combined output capability, so it can even charge
2 iPads at the same time !
Weight of main PowerBank = 8 ounces. Total package weighs under 1 pound.
Provides up to 15 extra hours of tablet operation
Charges iPods, eReaders, digital cameras, iPhones, iPads, Tablets, MP3 players, etc.
- if a device charges from a 5V USB port, it can likely charge from the PB11000.
Pass through charging allows charging of the PowerBurst battery and
your mobile device at the same time
Wire selection allows you to recharge battery from other USB output connections as well.
With the wall charger, the typical full re-charge time is approximately 6 hours.
Includes instruction manual.
WHAT YOU GET:
1 PowerBank
1 USB Micro charging cable, 1m long.
1 USB Micro charging cable, 6-in. long
1 8-pin lightning connector for charging newer Apple phones & tablets (1m length)
1 30-pin connector for charging Apple legacy products -
iPhones, iPods, iPads (1m length)
1 AC wall charger with folding prongs
(plugs into PowerBank for smart charge; 2.1A output)
1 DC Charger (1A output) - plugs into 12-13.8VDC socket, and has a USB2.0 output.
1 Carry pouch
---
PowerBank 12000
Solar Power Bank & Charger
12,000mAh Li-Polymer


Solar Rechargeable Power Bank, 12000mAh Li-ION Polymer.
Charges virtually any portable device or battery via dual 5V USB2.0 outputs
(1A and 2A charge rates). Can charge 2 devices at the same time!
N
EW FEATURE: now has extra fold-out solar panel, to double the solar array.

Power Bank re-charges via Solar Panel (400mA/hr max), and also via micro USB jack.
To re-charge, either connect to a USB output (1A - 2A preferred output rate)
for quick charge, OR place on window sill in direct sunlight (slow charge),
Has easy-to-read LED power status indicators. Size approx 6" x 4" x 0.8"
Weighs less than 1 lb. Includes USB-to-micro USB recharging cable.
Part # PB-12000
List $ 70.00 YOUR PRICE $ 49.95 BUY
---
Portable, rechargeable, essential for phone power when you need it.
These will provide immediate charging & power to your phone, tablet,
or any portable device that can charge from a 5.0VDC USB type output.
These Power Banks can be recharged from conventional USB outputs,
such as on a computer, or a portable wall charger, or 12VDC charger.
PowerBank 2600
Price $ 14.95 ea. BUY
Arrives PRE-CHARGED & READY TO USE !


Size: 4" long, 1" square. Outputs 5VDC @ up to 1A charge rate.
Provides quick, easy charging of cellphones and other portable digital devices.
Has USB 2.0 output on top - charges your device via USB2.0 port.
The PowerBank 2600 re-charges thru the top, via a micro USB
input with the supplied charging cable.
Comes in retail gift box. Includes POWERbank, charging cord, lanyard & keyring.

Click on photo at left for more info, and to visit store.batteriesamerica.com
NEW - the PowerBank 5500 SOLAR
Price $49.95 / pkg. BUY
Arrives PRE-CHARGED & READY TO USE !
Package includes base unit, adapters, & gift box.


Size: 5" x 3.5" x 5/8". Provides 5500mAh of power;
has Dual USB outputs (1A & 500mA) - can charge 2
devices at a time! Re-charges thru mini-USB port OR
from Solar Panel on top! Includes charging cable set
of adapter connectors: mini USB, micro USB, Apple 30 pin,
LG, Samsung, Sony, Nokia.